wanderlust
10 Stunning Pieces of Urban Art from Around the Globe
We've all come across it, but most of the time we just walk by. Despite the fact that urban art has now broken into the mainstream, many still question it, dismissing it as vandalism, even as it becomes more and more elaborate and innovative. Urban art is out in the open for everyone to see, yet it is anonymous. It is chaotic and challenges the accepted morals and social hierarchy, yet during the last decade, city councils have become increasingly supportive of it, deeming it an asset to local communities and commissioning new pieces. Beyond the countless discussions that may arise from its contradictions, let's not forget that urban art also exists to be enjoyed, as the beautiful pieces featured here can attest.
DALEast in Melun, France

(image source: www.daleast.com)
Born in China, DALEast, who is also a painter, sculptor and digital artist, is known for his fragmented, 3D effect style depicting figures that seem to be made up of countless tiny pieces of metallic waste. This powerful and dynamic mural, located in Melun, France, depicts a whale that appears to be captive and struggling to escape, even if it means tearing itself apart.
"Eternal Recurrence" by Interesni Kazki, Catania, Sicily

(photo © Interesni Kazki, http://interesnikazki.blogspot.com)
Ukrainian duo Interesni Kazki, made up of artists Aec and Waone creates highly detailed, colorful murals inspired by mythology, classical art and the traditions of various cultures. This work, painted by Waone on a silo in the port of Catania, Sicily is highly symbolic, referencing the intertwined ancient history and legends of Rome, Greece and Egypt
"How Is Global Warming" by Gaia, Delhi, India

(image source: http://cargocollective.com/gaiastreetart/Murals-and-Commissions)
Born in New York City and currently residing in Baltimore, Gaia chose the name of the Ancient Greek goddess of the Earth to reflect his preoccupation with the environment and the future of life on the planet. His outlook is a dark one, as is obvious from this mural that addresses the problem of global warming, where a drowning man's hand symbolizes the possible fate of mankind.
"Times Square" by Julian Beever in Times Square, New York City, USA

(image source: www.julianbeever.net)
Brit Julian Beever is a chalk artist known for his highly detailed trompe l'œil drawings that allow passersby to interact with them. Drawn in Times Square, the work shown here depicts the surrounding buildings seen from above, thus creating the illusion that the barriers of space have been broken.
Vhils at The Mills, Hong Kong

(image source: www.vhils.com)
Alexandre Farto aka Vhils is known for his large scale relief portraits. The work shown here is part of a collaboration between the artist and The Mills cultural and creativity hub in Hong Kong. Since The Mills occupies the building of a former textile mill, the artwork focuses on celebrating and preserving the memory of the industry's unsung heroes.
ROA in Brooklyn, New York City, USA

(image source: http://roaweb.tumblr.com/)
Belgian artist ROA depicts animals in a style that is both humorous and unsettling, not shying away from representations of decay. The horse depicted in this work may have the face of a friendly cartoon character, but it is obviously malnourished and it's hard to tell whether it's just sleeping or already dead.
Never2501 in Sao Paolo, Brazil


(image source: www.2501.org.uk)
Italian artist Never2501 is known for his monochrome, geometric compositions. His style is instantly recognizable due to the use of the circle as a generating motif. This creates the illusion that the figures and objects depicted have developed organically, and at the same time allows them to maintain their dynamism and vibrating quality.
Jan Vormann's Lego Art in Bocchignano, Italy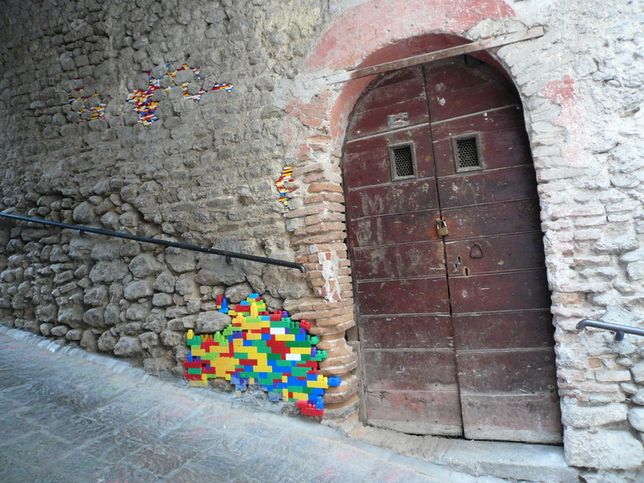 (image source: www.janvormann.com)
German artist Jan Vormann spent a few years travelling the world in order to "fix" buildings using his own colorful "repair bricks" that look very much like Lego pieces. The project started at a small art festival near Rome, Italy, and its growing success led the artist to "repair" buildings in several cities around the world, including Berlin, New York, Paris, Venice and Valparaiso.
Corner of Știrbei and Berzei St., Bucharest, Romania

(photo ©Alex Arama, http://100delocuri.ro)
Seen from a distance, this looks like a unitary piece. As we move closer, we see that the feeling of unity is the result of a clever optical illusion. The blind walls of the building and the concrete fence make up the "canvas" of this large-scale work, which is the result of an urban art contest for the enlivenment of this previously boring intersection. The contributing artists are Allan Dalla, Mr. Kero, Pisica Patrata, Irlo, Nego, Lux, Sweet Damage Crew and Dubios 21 and the piece took only two days to paint (24 & 25 August, 2015).
"There is Always Hope" by Banksy, London, UK

(image source: www.stencilrevolution.com)
By far the most famous street artist working today, Banksy can be credited with bringing urban art to the attention of the mainstream media and sparking his fair share of controversies. For instance, many of his works have been vandalized, thus raising the question of whether vandalizing something that is essentially considered vandalism counts as vandalism. Titled "There Is Always Hope," Banksy's graffiti of a young girl letting go of a heart-shaped balloon is one of his most popular works.
—
Anca Rotar is a Romanian-born writer, over-thinker and caffeine addict. She is the author of two books, Hidden Animals and Before It Sets You Free, both available from Amazon.com. Among her interests, which she finds it hard to shut up about, she counts fashion, yoga, city breaks and deadpan sarcasm. She is also currently studying Japanese, so wish her luck. You can sample bits of Anca's creative writing here.