love
10 Of The Most Beautifully Dressed Women Depicted in Works of Art
Art most often depicts women as beautiful objects to be looked at – even when it depicts them fully dressed. In many cases, though, a woman's personality, her life, thoughts and individual brand of strength can be just as fascinating as the things she chooses to adorn her body. Here are 10 women whose personalities – as well as personal style – are worthy of our admiration.
Madame Récamier by Jacques-Louis David (1800)
Juliette Récamier was a French society leader of the early 19th century, whose Salon brought together leading figures of the political and cultural world of the time. She popularized the women's clothing style known as Empire, which, characterized by high waistlines and flowing fabrics, emphasized comfort, in contrast with the corsets and bouffant shapes of the Ancien Régime. In addition to that, the type of sofa she is pictured reclining upon came to be known as a "recamier."
Jeanne Duval by Edouard Manet (1862)
Of mixed French and Haitian descent, Jeanne Duval was a 19th century stage actress best remembered for her turbulent relationship with poet Charles Baudelaire. In fact, the original title of this painting identifies her as "Baudelaire's mistress" instead of – you know – by her actual name. While the image of her in the poems – a highly subjective one – is that of an emotionally manipulative, cruel and demanding woman, Manet's portrait shows her as elegant, poised and alert.
Madame X by John Singer Sargent (1884)
Sargent's Madame X was Virginie Amélie Avegno Gautreau, an American-born woman of European Creole ancestry, who was educated in Paris and married a wealthy French businessman. Virginie's unusually pale skin tone is explained by her preference for lavender powder and her black gown looks strikingly modern compared to the fashions of the time. The initial version of the portrait was deemed obscene, as one of Madame X's pearl straps was down. The version we know today – with both straps firmly in place – was the result of an alteration made by Sargent in order to minimize the scandal.
La Marchesa Luisa Casati with a Greyhound by Giovanni Boldini (1908)
Italian aristocrat and patroness of the arts Luisa Casati, known as one of the first female dandies, was quoted as saying, "I want to be a living work of art." For over three decades, she was one of the most popular figures of European social life until, in 1930, having amassed an immense amount of debt, she moved to London, where she spent the rest of her life in poverty. The fashion brand Marchesa was named after Casati, and her personal style has also inspired designers such as John Galliano, Alexander McQueen and Karl Lagerfeld.
Young Woman in Summer Kimono by Goyo Hashiguchi (1920)
Artist Goyo Hashiguchi was born in 1880, a time when Japan was rapidly changing under Western influence. While now we can appreciate his work for its perfect balance between traditional Japanese art and Western influences, in his time, Goyo's work was criticized for being "too Western." Paradoxically, the leading art trends in the West in the 1920's – Art Nouveau and Art Deco – were greatly influenced by Japanese art. It is possible that the woman pictured here was Goyo's favorite model, Tomi, of whom not much is known.
Self-Portrait in Green Bugatti by Tamara de Lempicka (1925)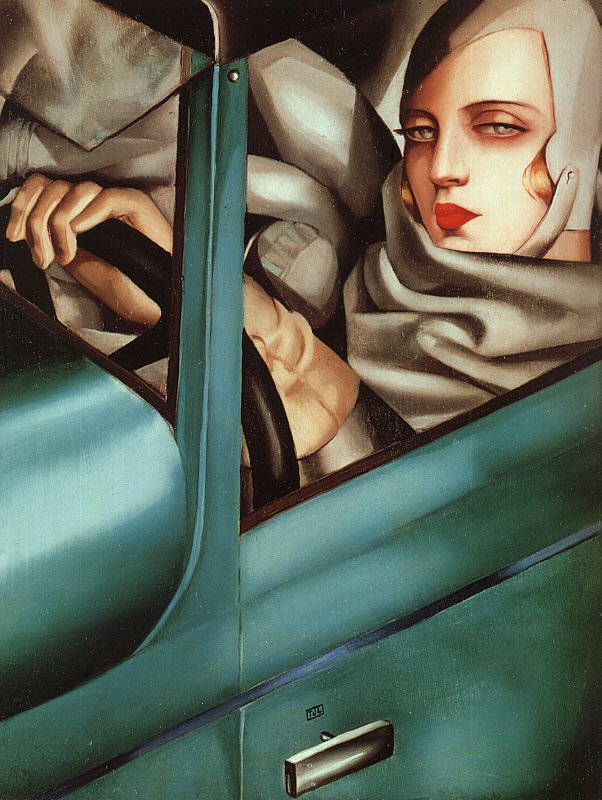 A Polish émigré to Paris and, later, the United States, Tamara de Lempicka was the first woman artist to become a glamorous star in her own right – an insider whose work is a real "who's who" of the high society of the European "roaring twenties." While Lempicka's painting style and subject matter falls mostly under Art Deco, there is a noticeable Cubist influence that gives weight, as well as a unique look, to her canvases. In this 1925 self-portrait, she depicts herself as the perfect embodiment of the 1920's vamp, seductive yet in charge, at the wheel of the most iconic car of the decade.
Kiki de Montparnasse by Man Ray, 1926
Born Alice Prin in 1901, Kiki became the unofficial Queen of Montparnasse in the Paris of the 1920's. She was an artist's model – who posed for most of the big names of the French avant-garde –, nightclub singer, actress, memoirist and painter. Kiki was also a close friend of Ernest Hemingway and had a long-term relationship with photographer Man Ray – arguably the love of her life. Sadly, with the decline of the avant-garde art scene, she, too faded into obscurity and died in poverty at the age of 51.
Anna May Wong by Cecil Beaton, 1930
Born a laundryman's daughter in Los Angeles, Anna May Wong became the first Asian American to achieve superstardom in Hollywood. At the time of Wong's 1922 film debut, the US film industry was still engaging in blatantly racist practices. For instance, the 1919 movie "Broken Blossoms" featured white actor Richard Barthelmess in yellowface, as a Chinese man. Wong herself failed to get the lead role of the Chinese farmer's wife O-Lan in the movie "The Good Earth," which went to actress Luise Rainer, of German descent, and was instead offered a stereotypical bit part, which she refused. While ethnic stereotypes forced Wong into playing delicate "buttefly"-type characters and, later, so-called "dragon ladies," she is remembered as a pioneer who fought against the discrimination of Asian Americans and against the idea that East and West are inherently different and irreconcilable.
Self Portrait with Cropped Hair by Frida Kahlo (1940)
Frida Kahlo painted this self-portrait after her divorce from fellow artist Diego Rivera, whom she would remarry by the end of 1940. The inscription reads, "Look, if I loved you it was because of your hair. Now that you are without hair, I don't love you anymore." In stark contrast with the traditional Mexican clothing she usually favored, Kahlo here sports short hair while wearing a suit of Rivera's and adopts a masculine stance in order to express her independence and self-reliance.
Donyale Luna in a Paco Rabanne Dress by Richard Avedon (1966)
Born Peggy Ann Freeman in Detroit, Michigan, in 1945, Donyale Luna came from a violent household (her mother would eventually shoot her father in self-defense). She was described by her friends and family members as a "kook," a strange youngster living in a fantasy world. In 1966, she became the first black model to appear on the cover of Vogue magazine. Luna also had a brief acting career, her most notable role being in Federico Fellini's 1969 extravaganza "Satyricon," as Oenothea, a woman cursed by an evil sorcerer to give birth to fire. Luna died of a drug overdose in 1979, aged only 33.
—
Anca Rotar is a Romanian-born writer, over-thinker and caffeine addict. She is the author of two books, Hidden Animals and Before It Sets You Free, both available from Amazon.com. Among her interests, which she finds it hard to shut up about, she counts fashion, yoga, city breaks and deadpan sarcasm. She is also currently studying Japanese, so wish her luck. You can sample bits of Anca's creative writing here.